History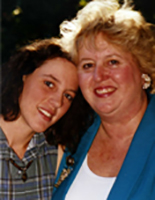 Libby's Legacy Breast Cancer Foundation was formed in 2007 just a year after Robin and Marty lost their mom, Libby Maynard to Stage IV Breast Cancer. (Libby would never say she lost her battle, she would say she WON her trip to heaven!)
Libby Maynard was full of fun, faith and courage and we hope to embody her spirit through this foundation by being secure enough to be vulnerable, strong enough to be gentle, wise enough to be humble, and powerful enough to serve others!
Libby's Story
Let me introduce you to the most amazing woman my sister and I have ever known…
Our Mom, Libby Maynard, was diagnosed with breast cancer in January 2005 and endured a double mastectomy, chemo and radiation. Her attitude was amazing. She always had a smile on her face and had the most positive outlook even in the face of her own diagnosis. She had more faith than anyone we've ever known! She made it through her initial treatments and then was informed that the cancer was back in September of 2005.  In January 2006, after more chemo, the doctor said the average woman in her condition lived three to five years. He told her to go do all the things she ever wanted to do. She didn't accept this opinion, of course, and with a smile on her face, said "Well, that's the average woman, and there's nothing average about me!".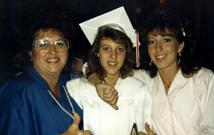 My Sister Marty and I asked our Mom what she always wanted to do but hadn't yet. She wanted to cruise to Alaska and she always wanted to see Italy.  The cruise was planned for May.
She passed away 6 weeks later on February 28, 2006.
Our mom was FUN. Our mom was strong. Our mom raised us to make a difference in this world and that's just what we intend to do!
Thank you for your support,
Robin and Marty Maynard
Libby's Legacy is a registered 501c3 non profit Tax ID #11-3812766 – All donations are tax deductible to the extent allowed by law