The Hope Tree Project
Change a life! Give the gift of HOPE!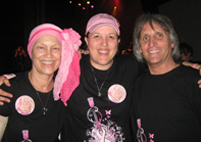 "Hope is a priceless gift…as a Stage 4 breast cancer patient in active treatment since 2003, my desire was simply to share that gift with women who due to lack of adequate health care coverage or finances lack the hope of access to this life-saving screening. My husband and priceless caregiver, Mark, also profoundly understands this need…which is why I knew there could be no gift he would cherish more this Christmas than a donation made on his behalf to fund a mammogram and potentially save the life of someone's mother, daughter, sister, grandmother, aunt or friend!" —Ellen Stephenson, Ellen earned her wings June 2012.
Ellen's Walk With The Angels is a tribute to an amazing woman, friend, fighter and hero. As proud members of the Ellen's Walk With the Angels team, we offer admiration, praise, and everlasting thanks to the most courageous – and contagious – inspiration we have the honor to know and love.
Ellen found out she had breast cancer in 2003, and she spent the next nine years living life to the fullest.  "She just refused to let cancer bring her down," her friend Robin Maynard said.

Click here to view stories of women that received mammograms or follow up procedures thanks to generous donations.  We still have many women with similar stories in need of services.  Choose to give a gift of a mammogram, you can give a partial donation by clicking the $25 or $50 icons at the bottom of the tree.
You may give a gift from yourself, your company, in the name of a friend or loved one or even in honor of a survivor or in memory of a loved one. 100% of every gift goes directly towards these breast health procedures.
These gifts of kindness have SAVED lives and in my mom's memory, I thank you. —Robin Maynard, Founder
Kind Words of Appreciation from Recipients